---

Bc 50 – Tseh So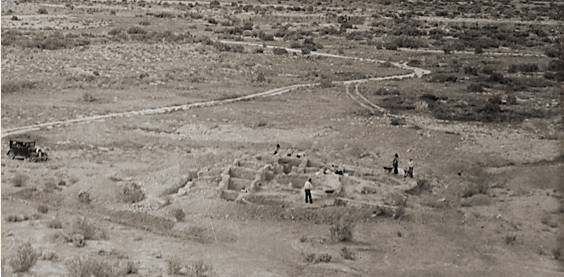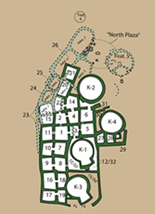 Using this Map:
Click on the map image to launch full-size, interactive map.
When you select an individual room or kiva context on the larger map, a pop-up window will appear displaying information categories from our database available for that context (Artifacts, Burials, Tree-Ring Dates, and Features).
Each of the categories can be expanded by clicking the '+' to reveal an abridged list of basic information. Selecting the category heading itself will open a separate window with complete details.
How it Works
Interactive Map
Site Description
A small residential structure located just east of Casa Rinconada and a ½ mile south of Pueblo Bonito.  This rectangular building, also known as "Tseh So," had twenty-six ground-floor masonry rooms with four kivas along the east side. The excavators also identified substructure and superstructure components of the building indicating multi-story architecture
Ceramic evidence at Bc 50 suggests a long period of occupation primarily centered during the A.D. 900s to 1000s.  Opinions differ on whether this occupation was continuous or periodic.  Excavations below the building revealed traces of an earlier Basketmaker occupation.
Two reports from the University of New Mexico Field School excavations were published in (1937 and 1939).  You can access these reports on the CRA Digital Monographs page.
Alternate site names include Tseh So, 29SJ394, and LA40394.
Excavation History
1936-1939, 1947: Excavated by Donald Brand, Florence Hawley, Frank Hibben, Wesley Bliss, Nan Glenn, Barbara Clark, F. Seltzer, Donovan Senter, Gordon Vivian, Raymond Rixey and the University of New Mexico/School of American Research field schools.
1947: Excavated by Gordon Vivian and Raymond Rixey of the National Park Service.
Size and Dates
Approximately 26 rooms and 4 kivas.
BMIII-PIII
---
Site and Room Data
Site Data Only