---

Bc 59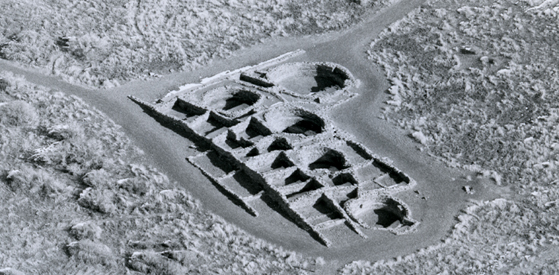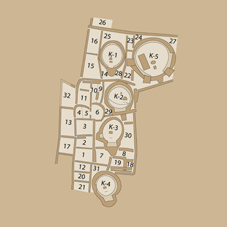 Using this Map:
Click on the map image to launch full-size, interactive map.
When you select an individual room or kiva context on the larger map, a pop-up window will appear displaying information categories from our database available for that context (Artifacts, Burials, Tree-Ring Dates, and Features).
Each of the categories can be expanded by clicking the '+' to reveal an abridged list of basic information. Selecting the category heading itself will open a separate window with complete details.
How it Works
Interactive Map
Site Description
A small house site located about 325 feet (100 m.) southeast of Casa Rinconada and along the Casa Rinconada trail, Bc 59 was excavated in 1947 as part of the University of New Mexico/School of American Research field school.  The site includes approximately 30 masonry rooms and five kivas.  The excavators also noted a "refuse heap" east-southeast of the original site mound with skeletal material eroding out of it.  Student notes document limited excavations in this mound and a later report by Erik Reed reveals that 38 individuals were recovered from 34 burials.  In addition, Hyde Expedition photographs reveal that Pepper's Burial Mound No. 1 was about 100 feet (30 m.) south of the Bc 59 roomblock.  Pepper recovered 12 burials from the mound and his report also indicates that Richard Wetherill and the Palmer family excavated in the same area in 1895.
Initial excavations revealed two-thirds of the site – including 13 rooms and three kivas.  Continued excavations ultimately revealed around 30 rooms and five kivas.  Many of the rooms at Bc 59 were irregularly shaped compared to the other small house sites in the immediate vicinity.  This site is visible along the Casa Rinconada trail.
Four tree-ring dates from a handful of beams recovered in Kiva 2 indicate harvest dates from A.D. 1050-1110.  The dominant ceramic types are consistent with construction in the last half of the 11th century and the first half of the 12th century.  Frequencies of other ceramic types also suggest the possibility of an earlier, 10th century occupation.
Alternate designations for this site are 29SJ399, LA 40399, and Tom Matthew's Dig.
Excavation History
1947: Excavated by Thomas Mathews, Gordon Vivian and the University of New Mexico/School of American Research field school.
Size and Dates
Approximately 30 rooms and five kivas
Tree ring dates suggest construction during the mid- to late-11th century through the early-12th century; ceramic type frequencies also indicate the possibility of an earlier, 10th century occupation
---
Site and Room Data
Site Data Only